Wanderlust Recap: Fun, Run x Namaste
When the opportunity arose to experience Wanderlust, I tried to hip you guys to this epic event. I hope you guys listened because not only was my experience everything that I thought it would be, it was way way more! And, despite a few bumps in the road, it was more than I ever could have imagined.
Read: Get Mind Right with Wanderlust Dallas

The morning started off with a 5k. Before entering The Lawn At Reunion I was sure that I was not going to take part in any bit of this run, but MC Yogi and all of the participants really got the crowd hyped up and next thing I knew I was running a 5k! Super glad I did because it really set the tone for the rest of the day.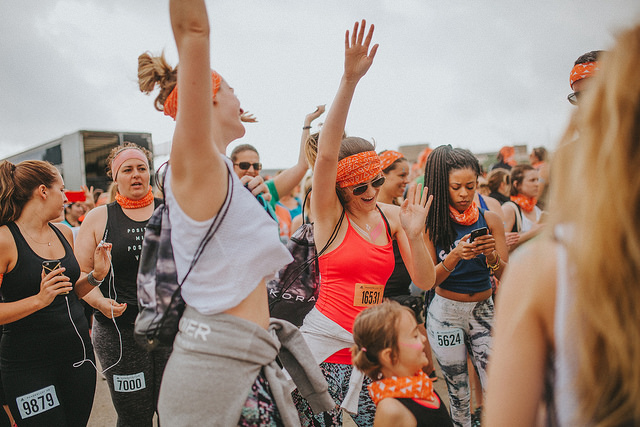 Photographed by Kevin and Stephanie Cabrera for Wanderlust
Afterwards, I made my way around to the local vendor tables where I sampled yummy treats, purchased over-priced protein bars, and watched participants try acro yoga, tribal body making and movement, slackline fundamentals and barre-yoga activities. Contrary to popular belief, I am a major introvert and super shy when it comes to meeting new people so, going to this event solo dolo was a feat for me. Luckily, the universe had different plans for me and I had the opportunity to meet another solo participant, Vanessa, who was also attending alone and we quickly became buddies for the day.

With Wanderlust you get to participate in the big group activities and pick one bonus activity to try out. The sign up for the bonus activities definitely fills up fast so, I strongly suggest monitoring the sign up sheet like a vulture! I picked meditation with a Dallas local, LifePower instructor Latasha, who - despite the large crowd and outside noise - really helped me reach a certain level of enlightenment that I haven't quite hit when practicing meditation at home. This had me super excited for the group meditation which was led by Noah Levine. His personal story and background cultivated such a high level of respect for him and the organizations he works with.
Let's backtrack a bit, though. I can't forget guided dance party yoga with MC Yogi! This Yogi absolutely blew me away with his contagious personality and infectious energy. It was so much fun! If that wasn't enough, something happened that I only found out about 3 days before Wanderlust took place..I met Faith Hunter!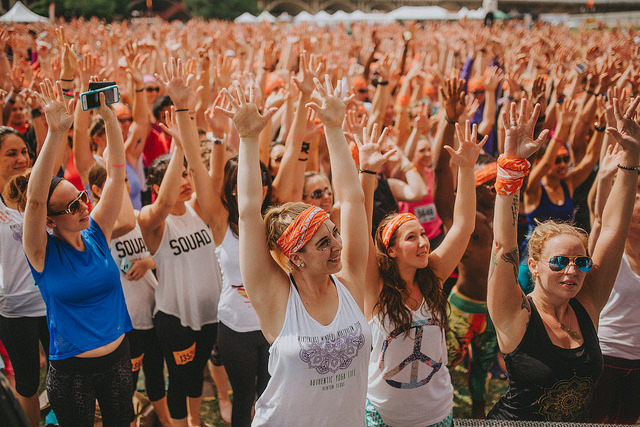 Photographed by Kevin and Stephanie Cabrera for Wanderlust
Faith Hunter is my fitspo for sure and knowing I was going to do yoga with her was one thing, but when she was literally 3 feet away from me walking her dog and I had the chance to just walk up to her and chat for a bit - that was all kinds of awesome! My day was made! Her yoga segment was so fun, and was designed for all yoga levels which was another added bonus!
Read #FitChicks: Get Bossy with Faith Hunter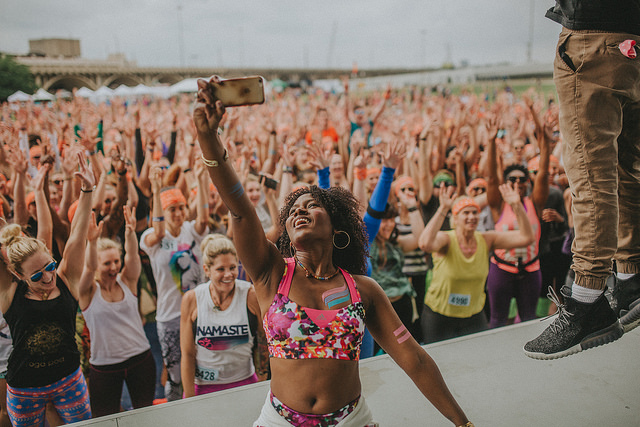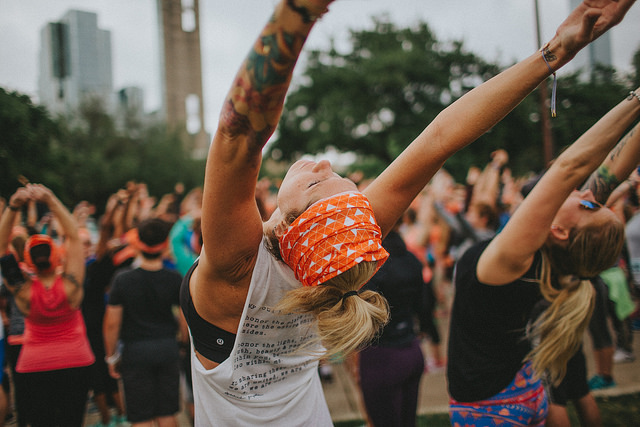 Photographed by Kevin and Stephanie Cabrera for Wanderlust

The rest of the afternoon consisted of guided meditation with Noah Levine. I purchased two of his books and am so excited to read them! There was a food truck fun as well as a stop at the Health Ade Kombucha station where I had my first Kombucha experience and even won the photo challenge they were hosting! Unfortunately, I returned to a flat tire in the parking lot but I was in such a peaceful place after my first mindful triathlon that I just contacted roadside assistance and kept it moving. Look at me on my namaste!
Photographed by Kevin and Stephanie Cabrera for Wanderlust
Ultimately, I loved absolutely everything about Wanderlust and I can not wait for them to put out next year's schedule so that I can start making plans for my next adventure! Hopefully you guys will join me next year!
Best. Day. Ever.
P.S: I'm predicting Austin for next year's Texas location however, Dallas for another year would get no arguments from me!
You May Also Like
Please Note: This post is sponsored. All comments about this events are my own and I have and will always remain transparent about my opinions. I will not endorse any events that I would not attend on my healthy living lifestyle journey