#FitChicks: Transitioning Your Gym Wear For Colder Weather
We are constantly on the lookout for ways to keep our Fit Chicks fam fashionable, inspired, and fit. So, with that in mind, we bring you some staple pieces that every Fit Chick needs in order to save money AND stay stylishly chic while hitting the gym or their favorite fitness class. There is absolutely no need to store away your summer gym fashions, because anyone who is serious about their workout knows that sometimes less is more.
Layer Up
Instead of investing in a drawer full of long sleeve workout tops, why not try to layer up with a cute hoodie or pullover? If you are looking for ways to save, we strongly suggest sticking with basic colors that you can easily mix and match with some of your more eye catching prints.
ADIDAS CLIMAHEAT MOCK PULLOVER - WOMEN'S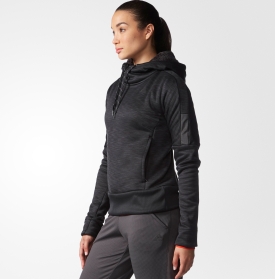 UNDER ARMOUR STORM ARMOUR FLEECE ICON HOODIE - WOMEN'S
NIKE THERMA FULL ZIP HOODIE - WOMEN'S
These three pullovers/hoodies made the cut because they are simple but will do the job for beating the colder weather. Try staying away from designs with large logos and words because they may make it a bit more difficult to rock on a pretty regular basis. Each option comes in a variety of colors and are all in a reasonable price range.
Socks Really Are Your Friend

No one likes getting overheated when breaking a sweat. One option that seems to be a trend in the gym is opting for some longer socks. Not only is this a fun creative way to dress up your look but if you opt for a pair of compression socks they can help limit any swelling that may occur while providing warmth. For our outdoor fitness enthusiasts, they can help protect you from dirt, scratches, or any unwanted outside friends (posion ivy, critters, etc). Here are a few of our favorite options:
2XU PERFORMANCE STRIPE RUN COMPRESSION SOCKS - WOMEN'S
STANCE POWERHOUSE CREW SOCKS - WOMEN'S
NIKE ELITE HIGH INTENSITY SOCKS - WOMEN'S
Pair Your Bright Colors With Warm Colors
Summer was the perfect time for neon and loud colors, but guess what?! So is every other season! This season we fell in love with bright colors and do not plan on giving them up anytime soon. Instead, the key is to mix and match. Check out some of these looks below.

These are just a couple of ways that we are maximizing on what we already have in our closet instead of breaking the bank. How do you transition your favorite "summer" gym clothes for colder weather?
XOXO, Brit & Chan #FitChicks
You May Also Like